Friday we went to Haifa to visit my grandfather's cousin.
The day started with me getting hassled about this bottle of water in which I had dissolved 2 Hairy Lemons to sip throughout the day: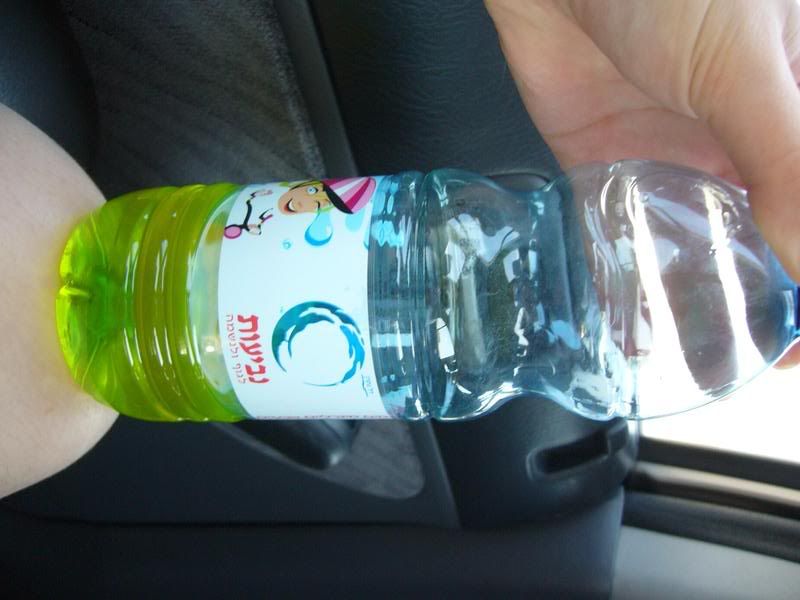 You see what it could have been mistaken for.
It started when D and I had breakfast at Our Breakfast Place, Nina's. I placed the full bottle on the table in front of me and the waitress was horrified and wanted to know what it was! I told her it was vitamins to make me feel better and she said that it looked so fake and full of chemicals that "with one hand I was patting my face and with the other, I was slapping it" (I think that was the translation from Yiddish).
Then I had it when we got to Z's place and he also wanted to know what it was (after checking it wasn't what he thought it was) and replied "what? you think there won't be a kiosk to stop at on the way?" And then, he pointed out to me on the journey that there is a roadstop like every 10 minutes. Much hilarity ensued as we tried to imagine how the Jews ever crossed the desert for 40 years without kiosks along the way, to stop and rest and have a drink.
I decided to leave it in the car when we got to our cousin's place.
Also, we were teasing Z that he is now the head of our clan and he mentioned his sister had said the same thing to him at the wedding. I kinda enjoyed the idea of us going to Haifa for a "sit down" with another branch of the family.
I lived in Haifa for 6 or 7 months, 10 years ago now. How the hell does time get away from you like that? Haifa is a smaller city than Tel Aviv and Haifa and there's not all that much to do there outside of work. I would often either go to Z's place or my grandfather's cousin's (Y) place on the weekend. Y lived like a 10 minute busride from my place so on Shabat he would call me and if I was there and not doing anything, he would tell me to get on a bus to his place and not do anything there. He would always remind me that he had cable! Haifa is one of the only cities in Israel where Jews and Arabs live in amongst each other in relative harmony and the buses still run on Shabbat there. So it was always a nice option to go to Y's place for the weekend.
However, I could never really get my head around living in a city of 200 000 people. I *always* thought that there were more people living on the other side of Mount Carmel (ie not on the side that overlooks the sea). This photo is the other side of the mountain and proves, once and for all, that there were only 200 000 people and all I could see was all there was to see.
And this is a view of Haifa from afar.
I forgot to take photo's at Y's place. It was a lovely visit and his son was there too. His son was very interested in family tree stuff which was nice and I left him email details to contact people. I am going to try to get some photos to send them - we forgot to bring any with us. And the one thing I have noticed is my family tends to keep the three photos you send every 10 years as the only thing they have of you. That's not right and I am going to try and rectify that when I get home. Like it just occurred to me today that I could get moile numbers and text them on Friday nights to wish them Shabat Shalom. We no longer have to live in a world where contact is so rare and there is no reason we can't be current with each other in our every day lives. That's a nice thought to think, as I sit here and write this just hours before I get on my plane to leave.
Y made us a lovely spread too which apparently was there for several hours before we got there - a mixup in times. He had homemade apple juice which was delicous. Also some lovely baked goods (he used to send me back to my dorm rooms with bags of them! - I got fat in Haifa) and some pureed cherries and fresh cherries (I could eat neither). It was a bit sad I guess to visit with him. But I hope to come back to Israel soon and see him again.
Below are the gardens of and the Bahai Temple. Haifa is I think the home of the Bahai faith. When I lived there, they were in the midst of constructing the gardens and the pathway that they built from the temple to the see. It is a site to behold. When I come back, I want to go and visit the gardens - you have to make an appointment, and we did not.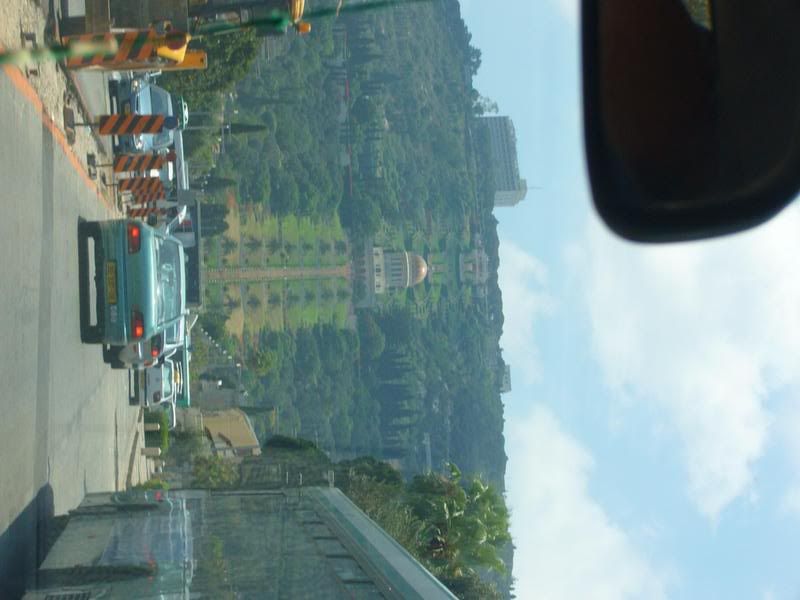 A submarine.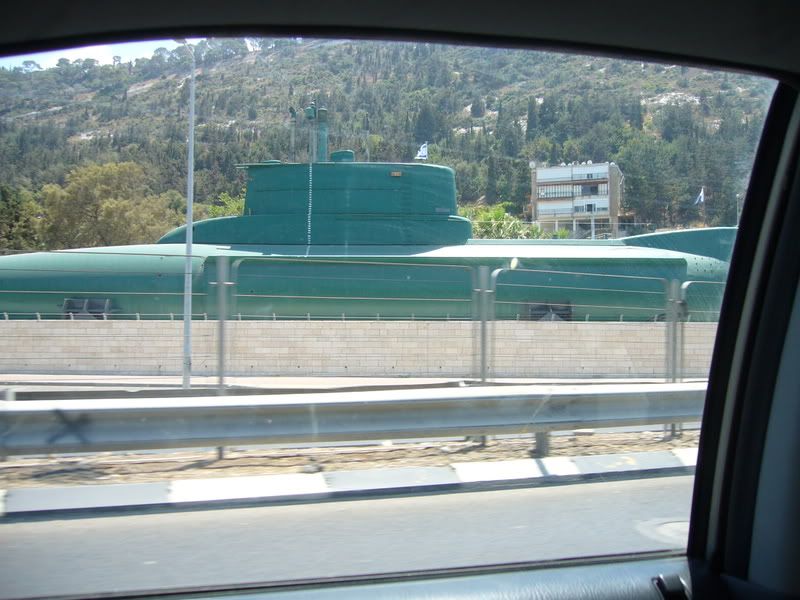 And this is where we had lunch with Z on the way out of Haifa - overlooking the sea. It's a very pretty city, I think.