... and enjoying my day off (and doing my laundry).
Ahh yes ... the man, I have to unpack it now look... I'm not really going to talk much about the flight home. My suitcase was ridiculously over-weight and what happens in Istanbul International Airport stays in ... ITA. It was expensive and I feel pretty bad about it. *And* the bag was pretty heavy to schlepp too! A nice man in the Istanbul Airport kindly helped me take it off one of the security stops and a nice lady in Perth airport helped me take it off the baggage carousel.
Flights weren't too bad - read something truly excellent whilst waiting for my flight to Dubai and then into the flight. I got a window seat next to two nice men. Vegetarian meal was decent and I *finally* watched 3 of the 4 eps of
Pushing Daisies
which D had been watching and telling me how good the show is. Yep, it's pretty good but they only had 4 random episodes, and missed a few in between each, which was pretty weird.
I had a ridiculous transfer in Dubai - landed at 1.25 am and my flight boarded at 1.50 am. Was a bit stressed as I couldn't bear a wait if I missed my plane. Didn't miss it which was good - but still had hand luggage stress with my laptop backpack AND my carpet bag. I had my candelsticks in the carpet bag and sat with them in my lap for both flights home. I hate stressing about getting enough over head luggage space and the middle east is pretty crap for it - everyone flies with lots and lots and noone feels at all bad about taking up your space and other people's as well. But it all sorted itself out and I had nice people in all my seat areas to help me out with that (I'm short ... just leave it alone). Got an aisle seat. Didn't like the guy next to me. Meh. Mostly slept in one hour shifts. Watched the last
Pushing Daisies
and also
27 Dresses
.
Landed early in Perth which was nice. And for some reason I got a free pass out of the customs check, after standing for about 15 mins or more for the first half of the line. I was all "I should go where?" And he's like pointing and gesturing to the "OUT" sign. I could hardly believe it!
My Mum picked me up and took me home where she'd cleaned out my fridge, collected all my mail and put fresh milk, bread, crumpets, fried fish, frozen veggies and dips in my fridge for me! How lovely is that!
The boy came over later on and helped me me unwrap my carpet: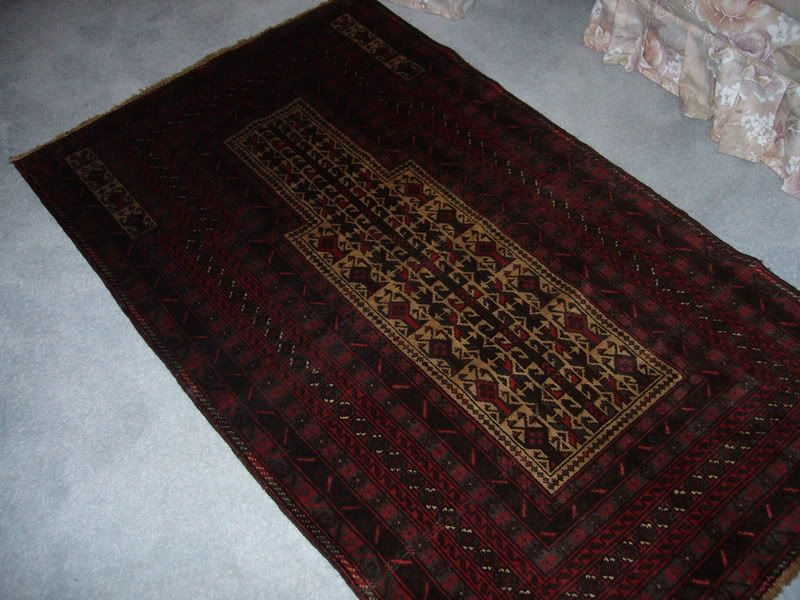 and we checked to make sure nothing broke on the flights home. Nothing did and after paying for excess baggage, I am *SO* glad!
And today I slept for most of it. Met my sister and Mum for coffee. Drove to my Nana's to pick my Mum up where my battery in my car died. And so had to get that sorted out too.