Have been desperately trying to find posters of my cousin's gig from the other night, which we missed since we went to the wedding instead!

Found one this morning on our failed jewellery expedition: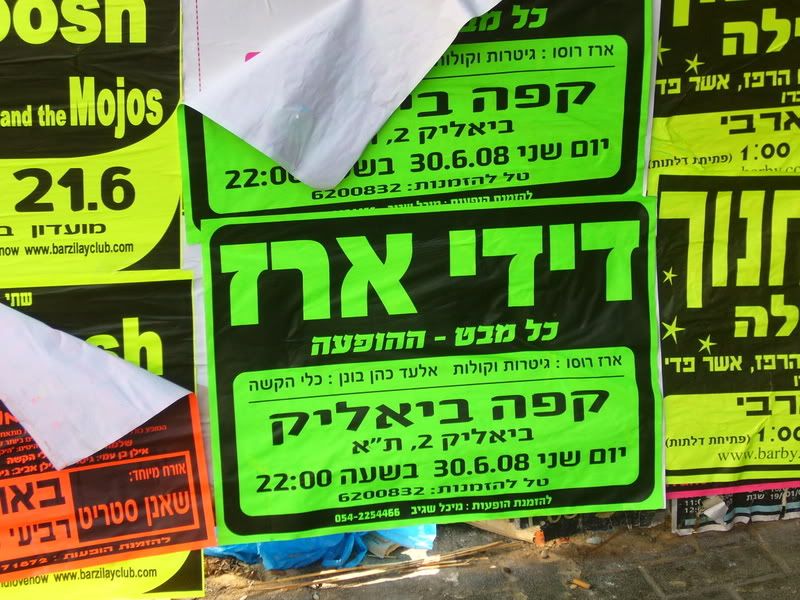 I am still yet to secure the Magen David. The jeweller is going to bring it, and the earrings P bought, to the hotel tomorrow morning. I am worried because I am not sure if we will accept my credit card in this fashion and thus may not obtain my desired item. I technically have one more shopping day in Tel Aviv on Sunday but don't like how fine that is cutting it. We shall see how it goes tomorrow.

Here is a photo of P. We were staking out the jewellery shop from the comfy location of one our coffee shops. P is obsessed with ice coffee. The store was supposed to open at 10am. At 11 we called him to find out that he was not going in to work today.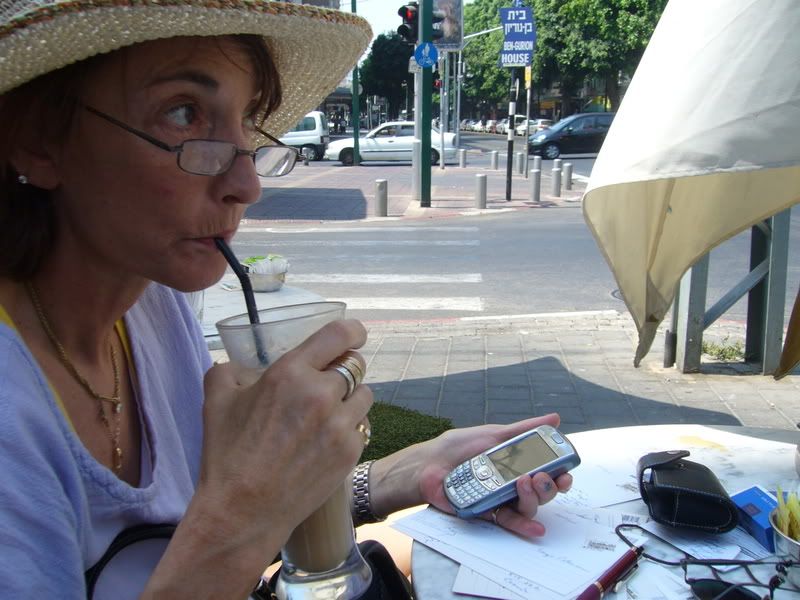 We also dropped off some clothes at the local laundry this morning and it was so fun - just reminded me of the kind of Israeli movies I've watched on SBS. So much seemed to be going on behind the scenes between all of the people.

What else? There was of course more coffee in our day than any of you could contemplate. Me, I have had to switch to tea and am rapidly being reminded of how much coffee I drank the last time I was here and how that ended up. I have also switched to grapefruit juice, which just tastes so much better here than at home. We are also going to buy a watermelon to eat some stage because they also taste better here.

We spent the early afternoon at Jaffa (Yafo).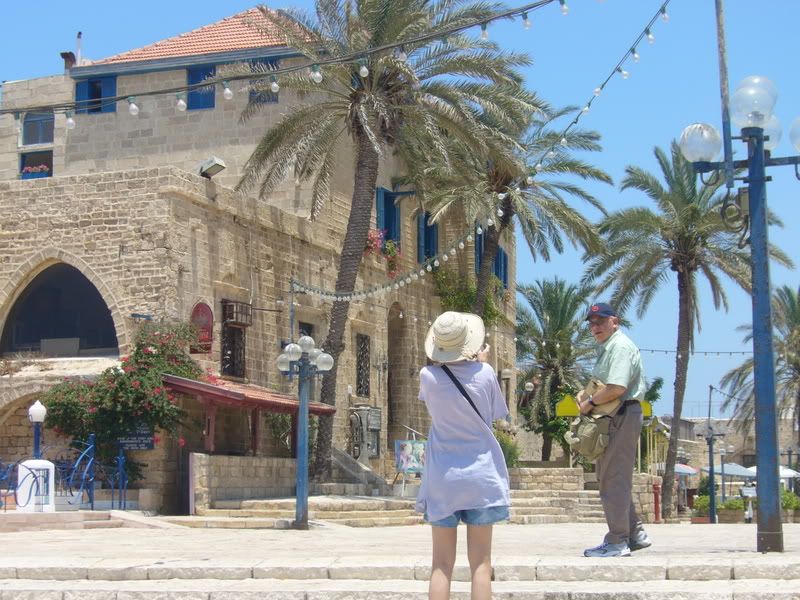 It's 4000 years old and used to be a port - it's all through the crusades history and stuff (sorry, not a historian *shrugs*). I like it because it is so old and pretty and now very much an artists quarter. It's got lots of windy narrow streets with lots of steps and little nooks and crannies and it overlooks the sea.




The art was just stunning. Such an inspiring place to create work, I would imagine. And such lovely and interesting pieces. I could have wandered around all day but we were on a time limit. D and I bought some beautiful silk screened paintings from this lovely little gallery run by the artist and his wife. An old couple but so friendly and kind. They even gave us bottles of water to take with us when we left. The works were mostly of religious icons but with a bit of fun in them - so children playing in the foreground of the Western Wall in the background etc. D bought a framed one with some figurines painted onto the glass giving it a 3D effect. Just stunning!

I'll finish with a view of Tel Aviv from Yafo. All the things we've seen this week have me think about art, and Jewish art and Jewish artists. There's some kind of thoughtfu post brewing but I don't think I have it sitting just right yet. I mean ... I'm on some kind of thought quest here about what it means to me, to be Jewish, I think. And maybe I just dont know the answer to that yet.