Today was a bit more cultural. We started the day at the Mosaics Musuem, which like everything here, can only be accessed via a bazaar with men calling things out to you - what are you looking for? You are looking for my shop! Everything for you is free. Do you want to buy a carpet? Come look inside my shop, just look. Blah Blah Blah. I am very over it at this point.

The Museum was small and had interesting mosaics in it. I think if I were not an engineer, I might have liked to have been a restoration artist or an archaeologist.




Then onto the Islamic Arts Museum (I think that is not quite the right name but the tour guide book is back in D's room tonight). Kinda of small. Full of lots of lovely things. I think the Classic Ottoman Period is my personal favourite era. Lots of stunning and old carpets ... always emeralds, rubies and diamonds. Nice.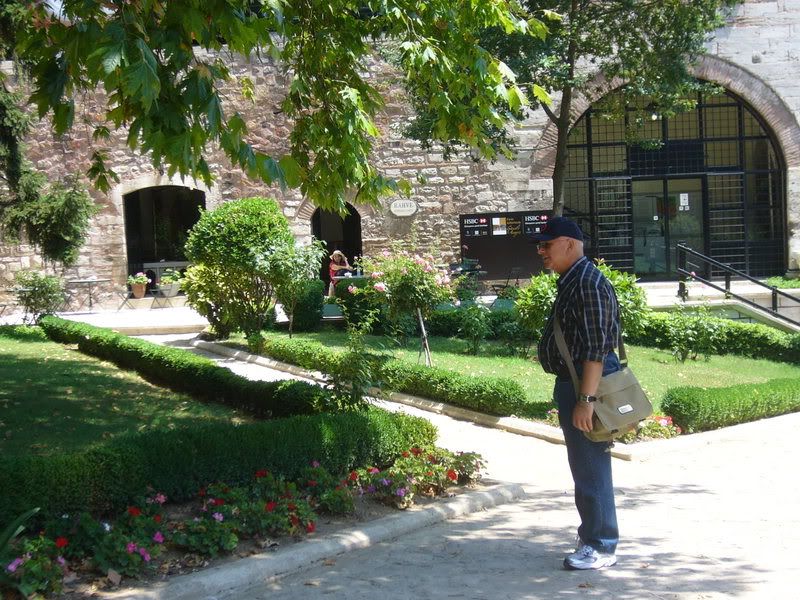 There was also a lovely extra little museum outside and down some stairs which had ethnographic scenes set up of what homes or living rooms looked like through the Turkish times. I thought the tents of the nomadic people looked really quite comfy - tent with carpets and pillows scattered around. Looked really quite homey. Also some interesting history of the wool, yarn, and looming crafts.




And then onto the Grand Bazaar. Of course. And again. I hate that place because I love it so much. No matter how much money or what my budget is when I go in, I come out with none and way overextended on the plastic. Sigh. Soooooooooo much I want to own. However, both our previous experiences had been very haphazard - as is the case with the bazaar: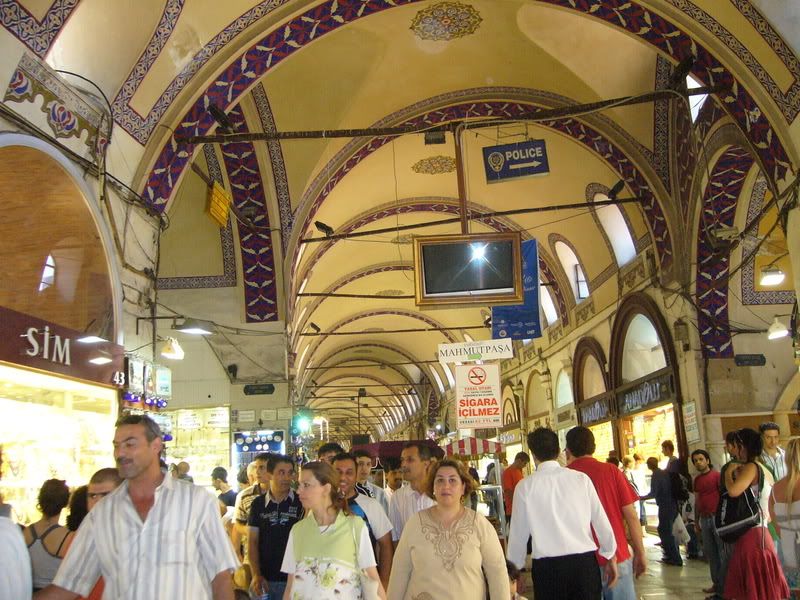 So we decided to take the tour as given in the Luxe tour guide which whizzes you in and out of streets and up and down and shows you all the little things that actually give you a sense of what is going on in the bazaar and it's history. And we had only really seen the jewellery and the carpets up till today, as far as I could tell.

P discovering a carpet shop that maybe she wanted to buy her carperts in ... long after hers have been bought and wrapped up: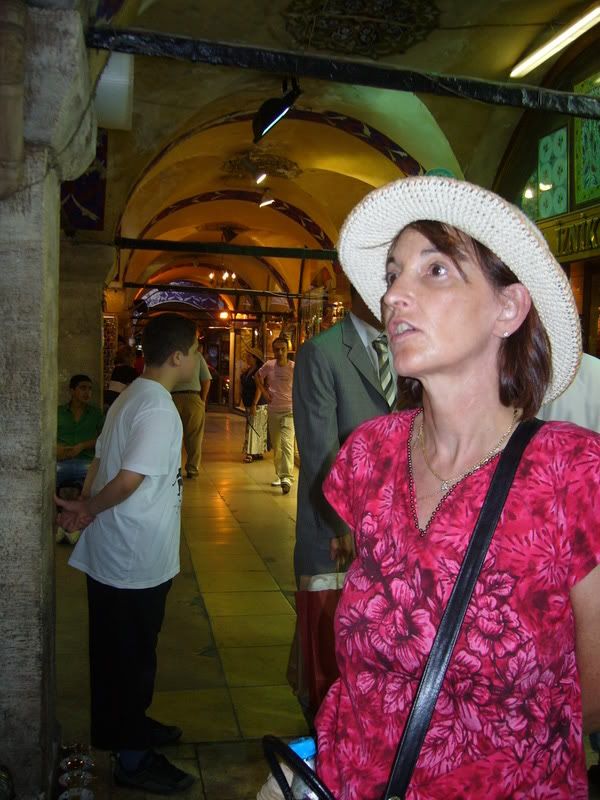 The bazaar is crazy and there is lots else to see including leather, denim, silver and gold areas. And the oldest bazaar area too (check out the different ceiling).




Fabrics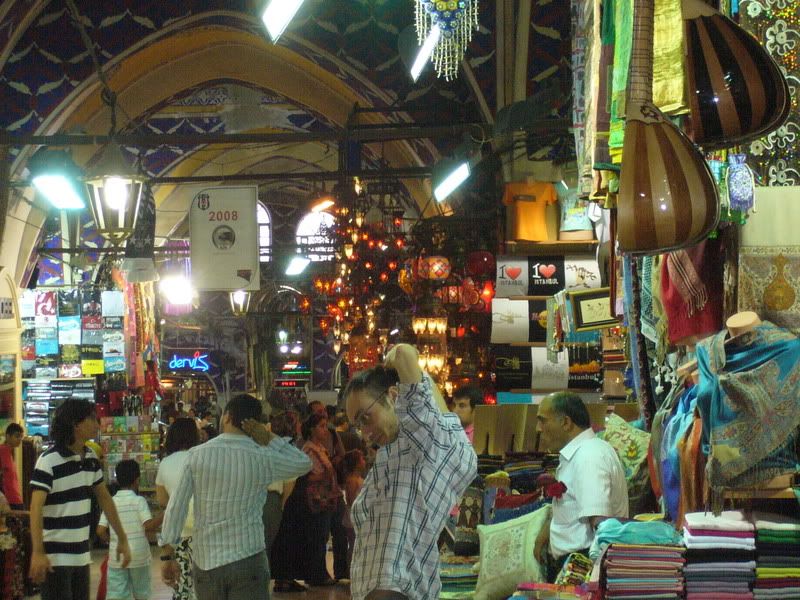 And we had coffee and baklava in the oldest coffee house in the bazaar:




OMG I LOVE Turkish coffee. I said that yesterday but I now *only* drink Turkist coffee. Yes, I am wired.

And then, when we were exhausted and annoyed and whatever, we went to our favourite carpet dealers where we got tea and P bought yet more of their lovely wares.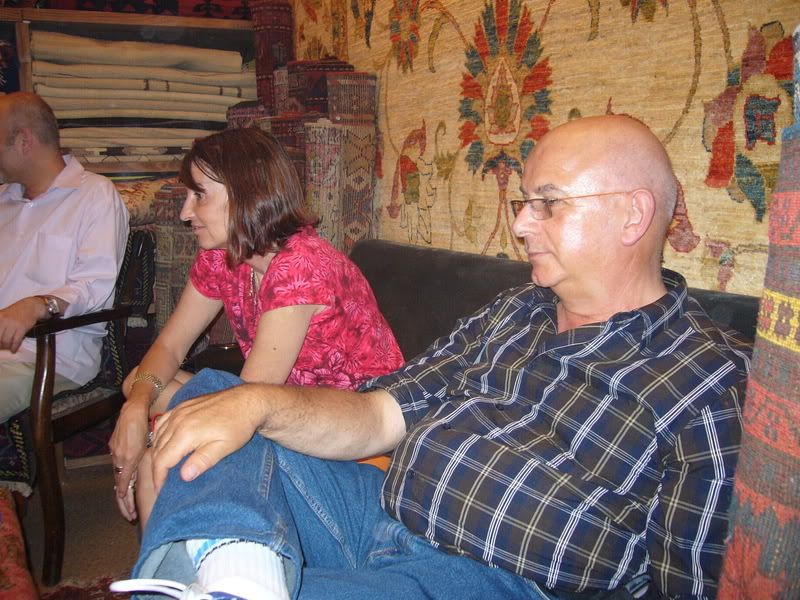 One day I want to be able to go in and buy silk carpets like these on the floor.




This though is my day's spoils and mark the point where I went overboard. Am about to now do a trial run of my suitcase. Please wish me luck and send me light luggage good thoughts.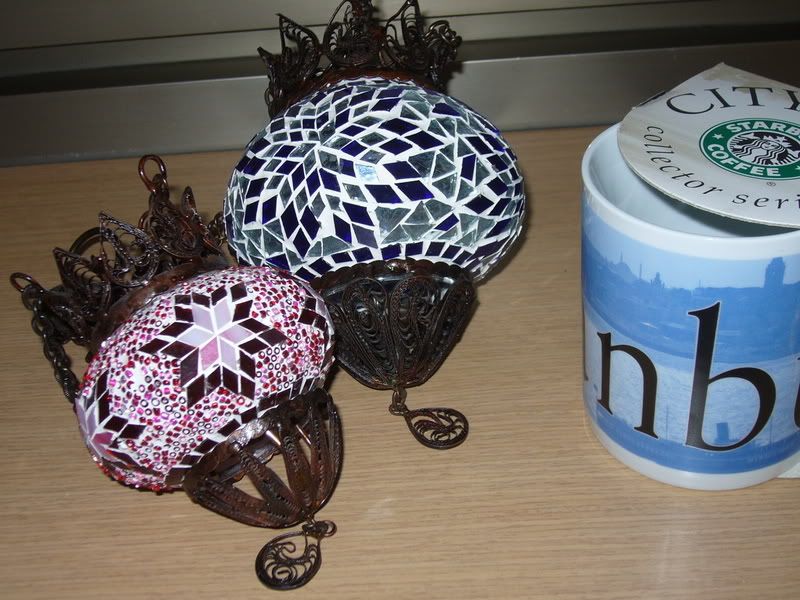 Apparently we have now OD'ed on the Bazaar and have sworn an oath to not return on this trip. I have definitely approached the point of not being able to spend any more money. Tomorrow we go off to another Palace. And perhaps to see the Whirling Dervishes in the evening. Saturday at this stage could be a trip to Gallipoli. Monday looks like being Modern Art before I hop onto my plane home. It won't be the last time I come to Istanbul.